Time to move the digital transformation focus off the CIO and on to the CEO & Board
If you had told me in Q4 2016 that not much transformation progress would be made by 2019, I would have been shocked. There is so much great advice in the market. And a few fairly public successes.
Yet here we are. Companies are struggling to transform.
Until recently, the spotlight had been largely on CIOs owning transformation. It hadn't occurred to most of us that the role of the CIO had never been to "lead;" it had always been about IT infrastructure support for the needs of the business. Yet the CIO was being pushed to the front and all of us were keenly focused on the tech side of transformation.
Forrester came out with their research showing that, on average, 85% of CIO budgets are tied up in "just keeping the lights on." I kept asking myself, "If CIOs are shackled to what I would call 'Legacy Mountain,' how could they lead digital transformation efforts?" Then Dion Hinchcliffe iterated the concept out further.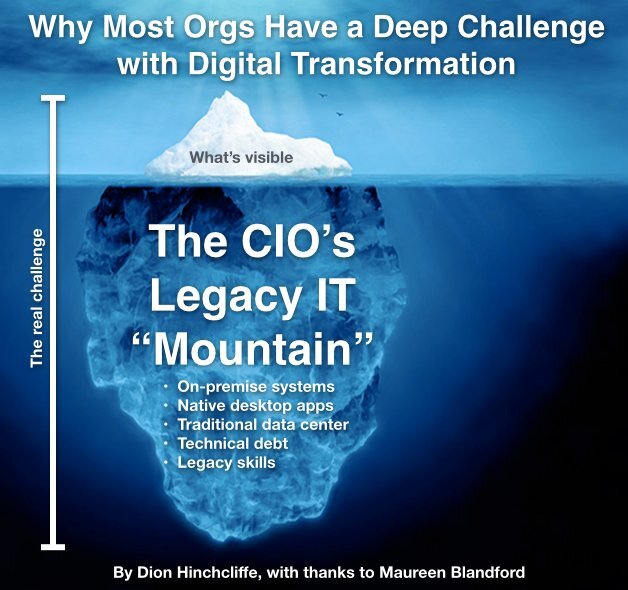 Two years later, as we've evolved and more voices are emerging on just how to tackle the transformation juggernaut, it's becoming more clear. Yes CIOs have been shackled to Legacy Mountain, but here's the thing: so have we all.
There's not a functional area that isn't drowning in legacy. Legacy tech, sure. But as well: legacy processes, mindsets, structures, and consequently, culture. It's insidious and toxic to a healthy future for companies born before the current tech boom.
Why is this so challenging to solve for?
The Diginomica team has done some brilliant analysis and reporting, deconstructing the BT (author Stuart Lauchlan) and Sage (author Den Howlett) challenges. If you haven't yet read these pieces, go do it. I can wait.
This is hard, hard work with a ton of risk. And we know a human's natural reaction to hard work with a lot of risk, right? Yep, duck and cover.
Digital transformation, at it's core, is of course a mammoth change management initiative. While we've all been focused on the CIO and what s/he is or isn't doing, what have we demanded of the rest of the leadership team and the board? What's the HR transformation plan? Sales, F&A, and every other functional area – where is their vision and plan to get from here to there?
The most prominent voice to date heralding a change in focus to the board is Ray Wang.
The BT example is particularly compelling to me.
If BT is struggling enough to decommission their current CEO, why would the board chair say, per Lauchlan's reporting: "The board is fully supportive of the strategy recently set out by Gavin and his team." If that strategy is not sound, why say publicly that you are continuing with … that. same. strategy?
We can't know why he said what he said. Regardless, isn't this a perfect time for the board to show leadership and acknowledge "what got us here won't get us there."
What could the BT Board chair have said instead? I went to some of the smartest folks I know, and asked them:
What should CEOs and Boards be focused on and communicating?
"Here are the common attributes Boards and CEOs should be focused on in 2019:
A board with:
Digital industry expertise well-represented in the makeup of the board (at least two board members.)
A strategic map of the full-potential, all-dimensions opportunity space in front of the organization for long-term growth and disruption avoidance.
A detailed oversight and regulatory plan for digital in all relevant operating environments.
And a CEO with:
A clear-eyed and detailed vision for the future of the organization in the digital age, communicated exceedingly well to the entire organization.
A digital transformation execution team headed by the CIO and backed by the CFO, C-Suite, and the board.
A customer experience program that catches up to the leaders in the market and stays there."
— Dion Hinchcliffe, VP & Principal Analyst Constellation, Digital transformation in 2019: Lessons learned the hard way
"Given the rapidly changing business environment, we need a CEO that will engage customers and employees to continuously co-create the future of our business, both in determining strategy and execution. This will transform us into an agile enterprise, closely connected and in lock step with our markets as they develop."
— Rachel Happe, Principal & Co-Founder The Community Roundtable, The State of Community Management 2019
"CEOs have a massive problem. How do they continue delivering on what the market thinks when they may well have to change business models with the implied disruption? What's more, CEOs almost never see beyond their direct reports so the burgeoning L2-LZ can easily obfuscate and divert attention away from topics that threaten their domain empires.
The best CEOs educate their boards about the reality of transformation, level set the markets and get their hands dirty. It's not hard, it just requires a steely mindset that's not simply focused on keeping the markets sweet as the counterpoint to stock awards but is focused on the long game. Unfortunately, few CEO comp packages are set up that way."
— Den Howlett, Co-founder diginomica
"Short-termism kills brands. It makes leaders focus on financial results rather than the customer. It causes them to strive to eliminate risk rather than embrace and manage it. And, it leaves them saddled with aging legacy processes, tech, reward structures and thinking. Boards assume they can take an incremental approach to solving their legacy issues, but like a person who knows the cost of everything and the value of nothing, they end up saving a little cash and miss the slow grinding loss of efficiency, agility, talent and customer trust, satisfaction and preference."
— Augie Ray, Vice President Analyst for CX, Gartner, Your Brand Needs a Customer Experience Transformation Before A Digital Transformation
Although I wasn't sure how Dion, Rachel, Den, and Augie would respond, I'm delighted that these four global leaders, with vastly different backgrounds and areas of expertise, are aligned on some key points, while bringing their own color to the question.
I'd say they've nailed the elements of a great foundation for transformation. What's next?
I'll add my own two cents: To succeed, companies will need a team who deeply understands
Customer Experience and how their customers want to buy; removing all friction
The realities of their legacy landscape
Emerging tech and (more importantly) how that works in the current landscape
The people side of change
We can do this, right?
Here's some inspiration for you on your path:
"A mere 35% of organizations investing in digital transformation had studied the modern customer journey. That number is not only dismal, it's down from 54% the year before."
— Brian Solis, Principal Analyst, Altimeter | It's time to humanize the mobile customer journey
"At the Fujitsu World Tour keynote, the room is 50/50 when asked if they have a clearly defined digital strategy and most weren't sure if it delivering. Still a lot of uncertainty around #DigitalTransformation."
— Maxine Marshall, Editor, i-cio.com
"Customer Experience is *stagnating* across the US. No leaders, little improvement, for years, across most industries."
— Rick Parrish, Principal CX Analyst, Forrester | There Are No Clear CX Leaders Among US Brands — For The Third Year In A Row
"The correlation between CX and repurchasing is very high."
If you can't get a business case approved to research customer journeys to strengthen business outcomes, here's compelling new research from Temkin Group.
"Digital transformations are flooding the enterprise, but the majority of employees don't know what they are. This awareness gap results in employees misinterpreting transformation efforts as an endangerment to their jobs, explained the report."
Tech Republic: Why a lack of top-down communication sets digital transformations up for failure